Joint Operation of Multiple Turin Robots
---
In October 2019, a renowned Chinese library launched the nation's first intelligent acquisition and cataloging system in the library field, called "Acquisition and Cataloging Turin." The system initiated a disruptive intelligent reform by collaborating with Turin Robot, jointly building a futuristic library filled with technology. The goal of this innovative project is to automate and intellectualize the entire process of book acquisition and cataloging, injecting new vitality into the library industry.
The "Acquisition and Cataloging Turin" system is an outstanding representative of cutting-edge technology, integrating artificial intelligence, machine vision, and industrial automation, among other technologies. It signifies the prototype of an intelligent library, taking a solid step towards modernizing library management, business intelligence, and smart services.
The Turin Robots introduced in the project are not just machines; they are the core of intelligent operations. These robots play crucial roles in tasks such as handling, scanning, labeling, gluing, and flipping pages, achieving a fully intelligent workflow. Among them, 13 six-axis industrial robots, 18 sets of machine vision cameras, 102 sets of servo control systems, and 345 sets of photoelectric sensors are interconnected through high-speed industrial buses to achieve collaborative work. The collective intelligence of these robots not only improves efficiency but also provides a solid foundation for the library's future innovations.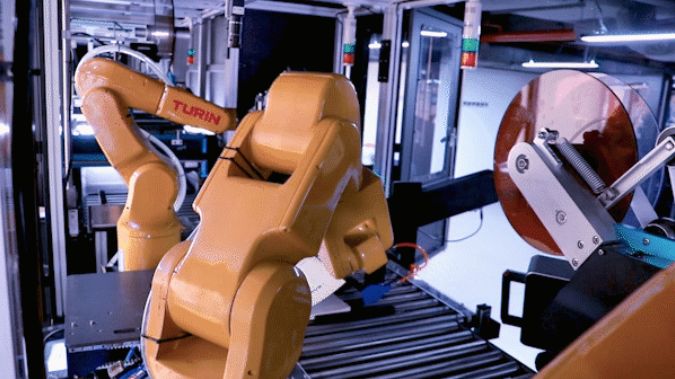 The "Acquisition and Cataloging Turin" system and its Turin Robots have built a fully automated, data-driven, intelligent robotic ecosystem, drawing a brand-new blueprint for the library's future. The continuous development of this ecosystem and the endless stream of data will become an essential cornerstone for intelligent services, providing strong support for the development of libraries and various industries. Turin Robots are not only a technological innovation but also a wise choice spanning multiple fields, leading the way into the future. This collaboration will become a new milestone for intelligent libraries, bringing significant changes to the entire industry.
In addition to library applications, Turin Robot products and solutions are widely used in industries such as healthcare, food, automotive parts, textiles, electricity, new retail, and new energy. They have successfully provided more than 30,000 robots and over 2,500 industrial applications to customers worldwide, meeting the diverse needs of various industries.