Case Study of TKB1600 Robot for Automotive Logo Tracking and Gripping
---
Turin Robot, a leading industrial robotics company, has achieved a significant breakthrough in the automotive industry by deploying the TKB1600 universal robot for tracking and gripping automotive logos. This case analysis provides a comprehensive exploration of the background, challenges, the proposed TKB1600 solution, and the subsequent effectiveness of the solution, showcasing Turin Robot's expertise in industrial automation.

In the automotive industry, accurately tracking and gripping logos on vehicles is crucial for branding and quality control purposes. Automation of this process ensures efficiency and precision.
Case Challenges
Accurate Logo Tracking: Achieving precise and consistent tracking of automotive logos across different vehicle models and positions.
Gripping Efficiency: Ensuring efficient and reliable gripping of logos without damaging the branding.
Adaptability: Designing a solution that can adapt to various logo sizes and shapes.
Utilized Solution
Turin Robot devised a solution employing the TKB1600 universal robot, known for its accuracy, efficiency, and adaptability in gripping applications. The TKB1600 was seamlessly integrated into the tracking and gripping process for automotive logos.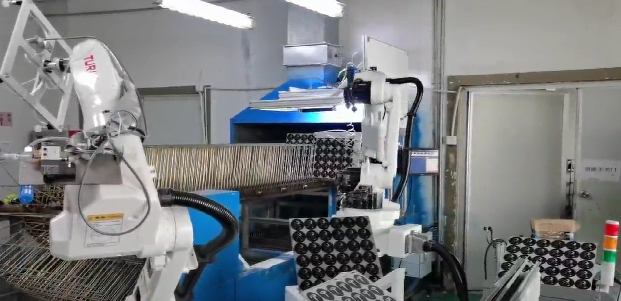 Robot Programming: The TKB1600 was meticulously programmed to accurately track logos on vehicles, adapting to different sizes and positions.
Gripping Technology: Integrated gripping technology optimized the gripping process, ensuring a secure hold on the logos while maintaining their integrity.
Adaptive Algorithms: Advanced algorithms allowed the robot to adapt to varying logo shapes and sizes, enhancing overall process flexibility.

Case Effectiveness
Precise Logo Tracking: The utilization of TKB1600 significantly improved the precision and consistency of logo tracking on vehicles, enhancing branding accuracy.
Efficient Gripping: Automation of the gripping process led to faster and efficient handling of logos, reducing processing time and increasing throughput.
Adaptability and Versatility: The solution showcased remarkable adaptability to different logo sizes and shapes, highlighting its versatility in automotive logo handling.

This successful implementation showcases Turin Robot's expertise in developing and integrating advanced robotic solutions to optimize industrial processes. By demonstrating the effectiveness of the TKB1600 in automotive logo tracking and gripping, Turin Robot continues to establish itself as an industry leader in industrial automation, providing innovative solutions that drive efficiency, precision, and adaptability.